NO OPUS at Corflute
10/12/15 to 17/12/15
Ross Manning
A live performance event using homemade acoustic instruments, which was recorded and played back on a TV.
Ross Manning's acoustic works are known to be devices that spin, flicker, flare, evolve, resonate and generate a kind of automated symphony. In this autonomous performance Manning will be using a series of constructed instruments for your aural delight.
http://www.corflute.org/pastprojects/2015/12/10/no-opus-ross-manning-10th-december-
---
Mirrors for Princes at IMA
24/10/15 to 20/12/15
Slavs and Tartars
In this show, the artists look to a medieval genre of advice literature known as 'mirrors for princes'. These guidebooks for future rulers were a literary tradition shared by Christians and Muslims, with Machiavelli's The Prince the best-known example. The texts present issues that continue to resonate today across the world, providing a case study of the balance between faith and state. In the exhibition, visitors traverse two immersive and contrasting environments: an audio-sculpture installation featuring multilingual excerpts from an 11th-century Turkic 'mirror for prince' called Kutadgu Bilig (Wisdom of Royal Glory), and a dark, psychedelic space revealing a series of glowing, fetishistic sculptures that share the text's concern with grooming. Kutadgu Bilig has been translated into six languages, including the Aboriginal language Yuggera. It represents one of the few known recordings of Yuggera, and was translated by language custodian Uncle Des Sandy.
http://www.ima.org.au/slavs-and-tatars-mirrors-for-princes/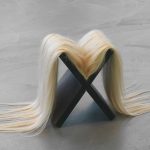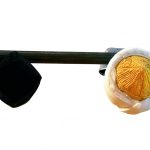 ---
Listen Hear at Milani Gallery
19/11/15 to 19/12/15
Peter Kennedy
In the artist's current project-driven art making – both commissioned and self-initiated – he considers personal trajectory and socio-political concerns – often set against large-scale narratives from history or geography. As an alternative aspect of these larger, almost 'grand' narratives, he also makes smaller, intimate works that focus on personal stories. Peter has had the honour of being considered to be an artistic innovator for five decades, from early experimentation with avant-garde mediums like sound and light, through to art which reflects deeply on the most profound issues of time, existence and the cosmos. The exhibition finalises what the artist considers to be his most important work to date, weaving together various threads of thought and perspective seen throughout his practice. It represents, in a complex way, a coalescing of his many interests in one work, a culmination of decades of art making.
http://www.milanigallery.com.au/exhibit/l-i-s-t-e-n-h-e-r-e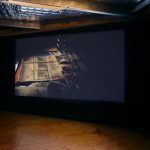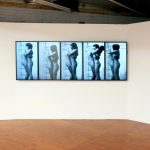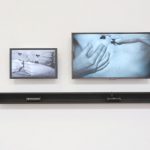 ---
I won't let you out of my sight at Boxcopy
Cigdem Aydemir
14/11/15 to 12/12/15
Cigdem's socially and politically engaged art practice investigates possibilities for intersubjective and transcultural communication with an interest in post-colonial and feminist issues. Much of her work expands on the veil as a culturally constructed site and as material realisation, while exploring the veiled woman cipher as resistant female other and as lived experience. Through decolonizing and queering mechanisms Cigdem endeavours to question established relations of power, while producing work that is driven equally by research, play, criticism and humour.
As we approach the 10th anniversary of the Cronulla riots, 'I won't let you out of my sight' looks at the implications of gender in the midst of rising racial tensions, the war on terror, the role of surveillance and the effect it has on different bodies. It also looks at the often complicated relationship between feminism and Muslim women, mired by a history of subject-constitution and object-formation.
http://boxcopy.org/2015/12/12/cigdem-aydemir/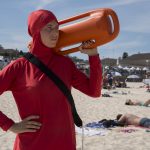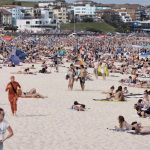 ---
Life, Death, Miscellaneous at A-CH Gallery
21/10/15 to 05/12/15
Amanda Wolf, Joseph Breikers
These two Brisbane-based artists whose work shares an interest in the creative and critical possibilities of humour.
'Life, Death, Miscellaneous' stems from an exchange of favourite novels; one, Patrick Süskind's Perfume: The Story of a Murderer, the other Master and Margarita by Mikhail Bulgakov. Each tale features transformative spaces that lie beyond plain sight. In Perfume, Jean-Baptiste Grenouille slithers away from the world and into a cave on the Plomb du Cantal, and in Master and Margarita, Satan holds the hell raising Spring Ball of the Full Moon in a dimension beyond the known.
Through acts of disrupted mimicry and abstraction, 'Life, Death, Miscellaneous' explores the cave as a physical and psychological space; a sanctuary and a place of exile and purification.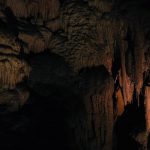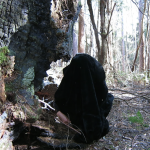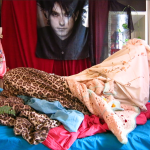 ---
Jeremy Hynes Award at IMA
20/11/15 to 28/11/15
Clark Beaumont
Clark Beaumont (Sarah Clark & Nicole Beaumont) show their recent work, The Descent (2015), as the first of three presentations by artists who have been shortlisted for the 2015 Jeremy Hynes Award, which is given biannually by the IMA to an emerging experimental Queensland artist in honour of the late Jeremy Hynes.
http://www.ima.org.au/event/jeremy-hynes-award-clark-beaumont/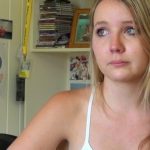 ---
Experimental Thinking / Design Practices at Griffith University Art Gallery
18/09/15 to 07/11/15
Yoko Akama, Andrew Brown, Laurens Boer & Jared Donovan, Bettina Bruder, David Carlin, Lukman Iwan, Adrian Miles, Reuben Stanton, Peta Tait, James Thom, Laurene Vaughan, Jeremy Yuille, Chicks on Speed (Alex Murray- Leslie and Melissa Logan) in collaboration with Kenneth Feinstein, Beck Davis, Raune Frankjaer, Sara Adhitya, Zoe Mahony & Tricia Flanagan, DesignInquiry, Timothy Kendall Edser, Tricia Flanagan, Bill Gaver, Mike Michael, Tobie Kerridge, Liliana Ovale, Matthew Plummer-Fernandez, Alex Wilkie & Jennifer Gabrys, Benedikt Groß, Brad Haylock, Joachim Halse, Eva Brandt, Brendon Clark and Thomas Binder, Natalie Jeremijenko (xCLINIC) & Tega Brain, Volker Kuchelmeister, Jeong Greaves, Laura Fisher and Jill Bennett, Katherine Moline, Sang Mun, Jason Nelson, Josh On/LittleSis.org, Tristan Schultz, Noam Toran, The Australian Bureau of Statistics, Leo Burnett Sydney, & Millipede Creative Development, Mitchell Whitelaw, Anouk Wipprecht
An exhibition applying innovative approaches and creative thinking to the pressing social and environmental issues of our time. Curated by Katherine Moline, Peter Hall, Beck Davis, Laurene Vaughan, Brad Haylock
https://www.griffith.edu.au/visual-creative-arts/griffith-artworks/exhibition-program/2015-exhibitions/experimental-thinking
---
Sehnsucht/Numinous i, Jugglers Art Space
9/10/2015 to 22/10/2015
Darryl Rogers
4 channel layered (partially holographic) installation. Sehnsucht is a German word that speaks to the sense that somewhere in an alternate reality there is something deeply longed for; a sense of home beyond the here and now. The experience is one of such significance that ordinary reality pales in comparison. The video based holographic/peppers ghost installation challenges perception, educes longing and evokes the mystery.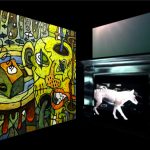 ---
GOMA Q at GOMA
11/07/2015 to 11/10/2015
David M Thomas (with Joseph Breikers, Suzanne Howard)
Production for "Seeing and Believing May Both be Wrong (one of you, here with you)" coincided with a mini residency hosted by MAAP-Media Art Asia Pacific during late May/June 2015. This time allowed the artist to test and refine the project prior to installation for GOMA Q. During the residency Thomas was able to develop and construct the apparatus – inspired by the Interrotron, filmmaker Errol Morris' direct address interview system – that were central to the exhibition.
Thomas collaborated with Joseph Breikers, to construct the apparatus from timber and beam splitter glass, mounted on mdf stands that housed electronic components and would project the final interviews. Meanwhile, in collaboration with Suzanne Howard, Thomas researched and contacted potential interview subjects focusing on people who represented self directed labour and relied on some form of technology or media for their work (paid or unpaid). For the interviews MAAP SPACE was transformed into a set using MDF cladding and coverings that inferred commercial packaging.
The first series of four direct address interviews were conducted in MAAP SPACE and the artist's home studio. The interviews are conversational so that the video sculptures speak to the audience directly and engage the museum visitors in a very personable way.
For the final installation at GOMA a corner section of the gallery was transformed into a five metre high cardboard packaging box that acted as a dedicated televisual space inside which the apparatus, video sequences and other installation paraphernalia were housed. Two electronic music scores by Weekend Immendorff (Thomas and Howard) were used as ambient soundtracks for the video sequences and sculpture/installation works.
During GOMA Q the artist worked with videographer Ben Wickes to conduct five further video engagements with subjects in situ using the apparatus. These were incorporated into three different presentations of the work and projected via the apparatus. Displayed alongside them was a small monitor that collaged "behind the scene" footage, video feedback and animations, which were intended as a metaphor for our contemporary experience of electronic self-consciousness.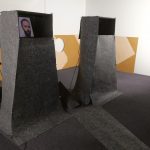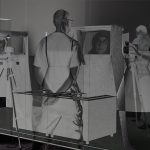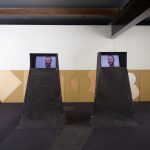 ---
Project Experimentation at Artist's Studio
16/09/2015 to 01/10/2015
John Feely
The artist borrowed a digital bin loop to expand on previous studio experimentation from earlier in the year.
---
2015 Swell Sculpture Festival, Currumbin, Gold Coast
10/09/2015 to 20/09/2015
Chris Bennie + Fiona Kemp, Louis Pratt, Ingrid Morley, Jimmy Rix, Adrienne Hmelnitsky, Daniel Clemmett, Melissa Hirsch, Jules Hunt, Greg Quinton, Anne Leon, Mimi Dennett-Fountain, Dave Hickson, Steve Lockie, Lance Seadon, Catherine Lane, Jack Quilter, Marie-France Rose, Mark Warne, Deborah Redwood, Carla Gottgens, Elaine Miles, Clayton Thompson, Ben Carroll, Marissa Lindquist, Andrew Lang, Giuseppe Filardo, Monte Lupo, Isaac Patmore, Jacqueline Damon, Shelly Kelly, Michael Van Dam, Ivan Lovatt, John Cox, Adrienne Kenafake, Jerzy Lesko, Tessa Bergan, Rebecca Cunningham, Tropical Loveland, Ged McCormick, Jerome Frumar, Scott Maxwell, Leonie Rhodes, John Wilson, Dion Parker, Suzi Lucas, Daniel Gill, Christopher Trotter, Carmel Marsden, Phillip Piperides, Wayne Markwort, Kris Martin, Thomas Reifferscheid, Gaye Jurisich, Oliver Stretton-Pow, Filthy Luker & Pedro Estrellas
Experience a wondrous display of over 50 sculptures built by local, national and international artists at the 14th annual Swell Sculpture Festival along Currumbin Beach. The free exhibition is open all hours with a selection of sculptures revealing a new verve as they are lit up under the southern sky.Over 10 days, visitors can experience the sculptures, enjoy twilight walks, informative artist talks, discover new perspectives, wander through the Swell Smalls Gallery and participate in artist master classes and childrens' workshops.Swell Sculpture Festival inspires, amuses, uplifts and captures the hearts and minds of all who visit.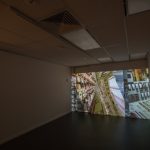 ---
Metaverse Makeovers at Convention Centre South Bank
19/09/15 to 18/09/15
Thea Baumann
Metaverse Makeovers® (MM) is a cross-cultural, collaborative, future-forward tech company and brand. MM is based in Melbourne, Shanghai, Hong Kong, and Online. We comprise an interdisciplinary team of artists, technologists, developers, and marketers. MM design, develop, and commercialise new mobile products for emerging markets and the Digital Generation: AR wearables and social experiences.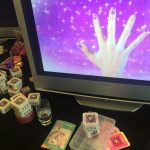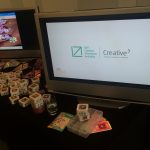 ---
Gorumba Bibujin (Many Dreams) Cinema at Quandamooka Festival
09/09/15 to 30/09/15
Quandamooka, Central Australians, Canadian First Nations & Ecological filmmakers (Tamara Whyte, Catronia McKenzie, Debra Mailman, Rob Stewart), Renata Buziak and more
The inaugural Quandamooka Festival is a three-month calendar of events from July – September 2015 celebrating the culture, country and people of the Quandamooka region.
http://quandamookafestival.com.au/wp-content/uploads/2015/01/2015-Quandamooka-Festival-DL-program-WEB-RASTER-2.pdf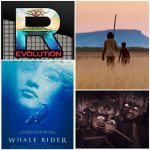 ---
Launch at Sang Space
23/09/15 to 30/09/2015
Ashlee Sang
The artist borrowed a projector for the Launch of her new ARI, Sang Space.
---
Dark Mess at Boxcopy
25/07/2015 to 29/08/2015
Grant Stevens
n a world consumed by quests for happiness and personal growth, Grant Stevens' new exhibition, Dark Mess, delves into the psychic troubles that sometimes lie below the canopy. Working predominantly with video, photography and installation, Stevens' practice explores how the verbal and non-verbal languages of popular screen culture interface with contemporary subjectivity. This exhibition continues Stevens' interest in the natural environment as a catalyst and proxy for introspection and self-discovery. Pushing sound and image to distortion, Dark Mess offers a disquieting journey through the undergrowth.
http://boxcopy.org/2015/09/07/grant-stevens/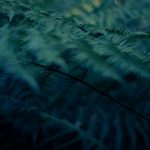 ---
National Churchie Emerging Art Prize at Griffith University Art Gallery
01/08/15 to 29/08/15
Abdul-Rahman Abdullah, Alrey Batol, Amina McConvell, Anastasia Booth, Anne Harris, Benjamin Crowley, Bobby Kyriakopoulos, Chris Bennie, Claudia Greathead, Dana Lawrie, Daniel McKewen, Deb Mansfield, Genevieve Felix Reynolds, Harley Ives, James Barth, Joshua Bonson, Justine Varga, Llewellyn Millhouse, Lydia Wegner, Margaret Loy Pula, Martin George, Matthew Allen, Matthew Sneesby, Michaela Gleave, Patrick Cremin, Rachael Archibald, Robert Andrew, Sam Martin, Scott Morrison, Sha Sarwari, Tai Snaith, Tim Woodward, Yannick Blattner
https://www.griffith.edu.au/visual-creative-arts/griffith-artworks/exhibition-program/2015-exhibitions/churchie-2015
---
Fish Lane Follies at Fish Lane
28/08/15 to 28/08/15
Luke Hammond, Jay Dee Dearness
Constructed installations of plywood 'scales' and 'skin' designed and built by Masters Students from the School of Architecture, University of Queensland, showcasing the school's design, research and prototyping capabilities. This event is a collaboration between UQ Architecture and Baber Studio Architects.
http://www.architecture.uq.edu.au/fish-lane-follies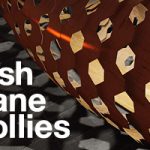 ---
It will find you at The Junk Bar
26/08/15 to 27/08/15
Chris Allery, Paul Rankin, James Enchelmaier, Mark Steele, Jane Teresa Anderson
This project formed part of the Brisbane Fringe Festival 2015
http://brisbanefringe.com/brisfringe2015/event/it-will-find-you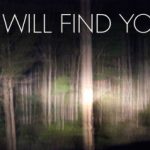 ---
Art as Verb at Artspace
27/5/2015 to 26/8/2015
Marina Abramović, Vito Acconci, Bas Jan Ader, Paweł Althamer & Artur Źmijewski, Francis Alÿs, Billy Apple, John Baldessari, Brown Council, Catherine or Kate, Clark Beaumont, Martin Creed, DAMP, Aleks Danko, John Davis, Harold Dover, George Egerton-Warburton, Peter Fischli & David Weiss, Emily Floyd, Ceal Floyer, Heath Franco, Alicia Frankovich, Andrea Fraser, Ryan Gander, Philip Gerner, Agatha Gothe-Snape, Matthew Griffin, Bianca Hester, Hi Red Center, Christopher L G Hill, Tehching Hsieh, Tim Johnson, Allan Kaprow, Peter Kennedy, Mike Parr, Sister Mary Corita Kent, Anastasia Klose, Laresa Kosloff, Jiří Kovanda, George Kuchar, George Maciunas, Basim Magdy, Paul McCarthy, David McDiarmid, Ian Milliss, Kate Mitchell, Bruce Nauman, Rose Nolan, Claes Oldenburg, Yoko Ono, Ariel Orozco, Jill Orr, Deborah Ostrow, Campbell Patterson, Kenny Pittock, Stuart Ringholt, Sarah Rodigari, Robert Rooney, Martha Rosler, Eva Rothschild, Tony Schwensen, Jill Scott, Kateřina Šedá, Christian Thompson, Rirkrit Tiravanija, Ken Unsworth, Gabrielle de Vietri, Franz West.
Art as Verb takes as its leaping-off point the notion of – and move towards, in recent decades – art as action, rather than art-as-object.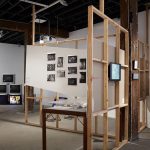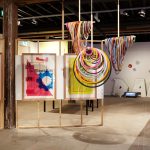 ---
LANDSEASKY at Guangdong Museum of Art
08/01/2015 to 19/08/2015
Jan Dibbets (The Netherlands), Paul Bai (Australia), Lauren Brincat (Australia), Barbara Campbell (Australia), Wang Gongxin (China), Shilpa Gupta (India), Yeondoo Jung (South Korea), Derek Kreckler (Australia), Giovanni Ozzola (Italy), Joao Vasco Paiva (Portugal/Hong Kong), Wang Peng (China), Kimsooja (South Korea), Craig Walsh (Australia), Sim Cheol Woong (South Korea), Heimo Zobernig (Austria), Yang Zhenzhong (China), Zhu Jia (China), Zhang Peili (China)
This exhibition continues to pick-up on the international ('global') dialogue from conceptual art practices of the 1960s and 70s. The Horizon series from 1971, by influential Dutch conceptual artist Jan Dibbets, is the opening statement that launches LANDSEASKY's conversation among the 18 artists whose works explore the relationship between video and spatial representation. LANDSEASKY uses the horizon line as a starting point to explore concepts in perception that push past popular cinematic practices, which focus on narratives and illusion, to encourage critical engagement and contemplation.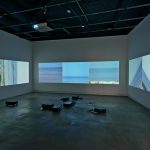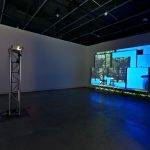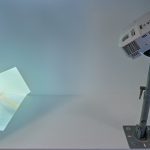 ---
Current Projects at IMA
15/07/15 to 16/07/15
The Institute of Modern Art partnered with QFF to present a free preview screening of the film: The Vanquishing of the Witch Baba Yaga (2014)
http://www.ima.org.au/event/queensland-film-festival-screening/
---
ALL AT ONCE at MAAP SPACE
22/05/2015 to 06/07/2015
Louise Bennett
Louise Bennett's exhibition All at Once explores screen-based mediation as an unstable fluid space of rainstorms and unpredictable futures.
All at Once investigates the conditions of the present moment of experience by exploring the emotional, spiritual and technical properties of digital media. Bennett questions the shape of time, place and mood in our increasingly digitised culture and finds expression in an affective combination of elevated emotion, anxiety, beauty and the banal. Revealing the capacity of the digital moving image to migrate and shift between real experiences, online spaces, computer monitors and immersive environments All at Once, Bennett highlights the absence of a consistent and uniform boundary between embodied, remembered and mediated experiences within our contemporary digital age.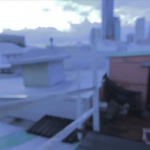 ---
PhD Work at QCA
04/06/2015 to 10/06/2015, 24/06/2015 to 03/07/2015
Paul Bai
The artist borrowed a projector, media player and cables to enable the presentation of work as part of his PhD requirements.
---
Paint it Red 11 at Jugglers Art Space
19/06/2015 to 19/06/2015
Peter Kozak, Philip Morgan, Alicia Hollier, Jamie Day, Manu Wit, Will Powell, Libby Myers, The VioIa Cloning Project, Jo Lagerlow & Cassie Slater, Orsino's Safari, Aditaya String Quartet
Programs combining classical chamber music, jazz and improvised music, and other art music forms including folk and electronic music are presented in an intimate and contemporary gallery space adorned by art works from local Brisbane art students and professionals. Created as a forum to both celebrate and further unify the classical, jazz, and visual art communities of Brisbane, Paint it Red provides a vibrant and eclectic meeting place for musicians and artists to collaborate and thrive
---
Independent Development at Artist's Studio
20/05/2015 to 17/06/2015
John Feely
The artist borrowed a Binloop to enable the development of new work in studio.
---
The Mourning (adaptation) at MIFQ's 24th Art Exhibition
29/04/15 to 20/05/15
Richelle Spence with two supporting artists
Curated by Karleen Gwinner
http://heyevent.com/event/rkm23xai57g44a/the-mourning-adaptation
---
New 15 at Australian Centre for Contemporary Art
14/03/2015 to 17/05/2015
George Egerton-Warburton, Richard Frater, Jessie Bullivant, Kate Newby, Ash Kilmartin, Paul Bai, Alex Vivian, Adelle Mills
ACCA's annual commissions exhibition for rising Australian contemporary artists. This year curated by Matt Hinkley.
https://www.accaonline.org.au/exhibition/new15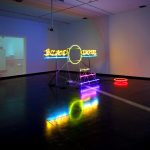 ---
The Homesickness Project at Logan Art Gallery
05/03/2015 to 18/04/2015
Bark lab (Lindy Atkin, Steve Guthrie), Caroline Doolin, French and Mottershead, Barbara Kulmer, Urban Mader&Peter Allamand, Roisin Loughrey, Christine Pybus, Sinisa Labrovic, George Budd&Anne Grant, Therese Flynn-Clarke & Nicola Hooper, Evangeline Goodfellow&David Pearce, Natasha Narain, Sharka Bosakova, Stephanie Stainlay, Chrys Zantis.
The Homesickness Project is an artist-led contemporary art organisation that takes homesickness (nostalgia) as a starting point for discussions about how we make (or fail to make) our homes in the world – physical, cultural, vocational, spiritual, virtual or imaginary. The organisation unifies a broad range of arts practitioners – visual artists, performers, filmmakers, community artists, writers and arts workers – working in the studio and in the public realm, under the subject matter banner. In 2014-15, ten artists from Logan City (Australia) will run six collaborative public art projects with community groups. These will be drawn together in a major exhibition at the Logan Art Gallery in March/April 2015, with the related work of eight other studio-based artists from Australia, Croatia, Ireland and the United Kingdom.
http://www.homesickness.org.au/cms/ or http://www.situ.net.au/
info@homesickness.org.au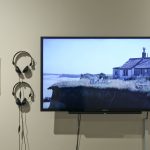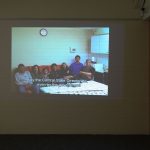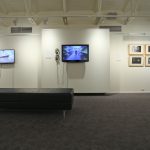 ---
Independent Development at Artist's Studio
04/02/2015 to 05/02/2015
Rob Corless
The artist borrowed a projector and cables to enable the development of new work in studio.
---
White Silence at Juggler's at Hamilton Northshore
30/02/2015 to 02/02/2015
Jessica Row
White Silence is an ongoing group exercise at Jugglers where invited artists collaborate on an interpretive response to a controlled environment of selected music and silence, usually in one of the Jugglers exhibition spaces. This is done without any verbal communication between participants. The idea is borrowed from the mystics across a range of spiritual traditions in an attempt to also create a crucible for possible moments of inexplicable presence, new understandings and epiphany.
http://www.jugglers.org.au/2015/02/12/white-silence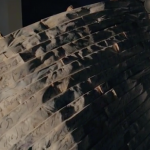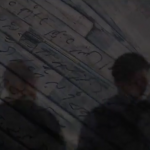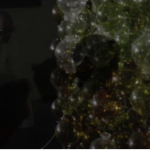 ---
Independent Development at Artist's Studio
11/01/2015 to 12/01/2015
Rachel O'Reilly
The artist borrowed a projector and cables to enable the development of new work in studio.
---
In 2015 MAAP supported 76 artists