IF YOU REQUIRE EQUIPMENT PLEASE OUTLINE YOUR PROJECT VIA – LOAN REQUEST FORM.
All inquiries email: info@maap.org.au
MAAP Media Bank has sponsored over 400 exhibitions and projects to the total value of $1,700,000 in equivalent commercial hire rates. With the use of audio-visual equipment mainstream in visual arts practice, this service has been an invaluable resource to the creative community.
About MAAP Media Bank
The MAAP Media Bank re-purposes audio-visual equipment from its exhibition program, to help artists with creative projects. Launched in 2007, the Media Bank grew organically from MAAP's existing resources that accumulated from exhibitions. The program promotes the sharing of MAAP's used equipment as a strategy to support the visual art and new media art communities, and encourage sustainable attitudes towards the consumption of technology.
The MAAP Media Bank was established and continues to be supported through the generous support of Arts Queensland, the Brisbane City Council, The Community Benefit Gambling Fund and considerable donations of equipment from individuals, companies and organisations.
In 2012, MAAP Media Bank supported 43 exhibitions involving over 60 artists combined equipment sponsorship to artists' projects $163,222.
In 2013, 51 exhibitions supporting over 80 artists combined equipment sponsorship to artists' projects totalling $106,609.
In 2014, 41 exhibitions supporting over 110 artists combined equipment sponsorship to artists' projects totalling $328,733.
In 2015, 32 exhibitions supporting over 162 artists combined equipment sponsorship to artists' projects totalling $98,040.

In 2016, 14 exhibitions supporting over 45 artists combined equipment sponsorship to artists' projects totalling $86,106.
From 2017, MAAP Media Bank has continued to support artists' projects and exhibitions.
Membership Guidelines
The MAAP Media Bank sponsors artists' exhibitions and projects that meet our criteria. To start the membership process, you must first fill in a loan request and you will be sent further information via email. There are two levels of support for applicants under the MAAP Media Bank Loans Scheme the first is a fully sponsored support and equipment loan and the second is a partially sponsored support and equipment loan. All members are expected to meet the following compulsory commitments:
1) Pay an Annual Individual Artist Membership Fee $50 +gst
This registers a member to borrow equipment (subject to standard terms & conditions and availability of equipment). The fee is payable by bank deposit before a loan commences or by cash on pick up of equipment. Please do not hesitate to contact MAAP for more information.
Annual Institutional Membership Fee $200 +gst. Please note, there may be an additional maintenance fee requested depending on the type of equipment and duration of the exhibition.
2) Attend a group induction session held at MAAP SPACE (111 Constance St, Fortitude Valley), to learn more about MAAP, the MAAP Media Bank and your responsibilities as a member.
3) Consistently meet the requirements of the Loan Agreement, which includes:
– acknowledging MAAP Media Bank in the project's print and online promotional material;
– becoming an active Media Bank advocate in our social media campaign;
– promptly filing Loan Reports at the conclusion of your project
4) Engage in other MAAP programs, including our MAAP SPACE gallery program, as committed MAAP supporters. MAAP Media Bank members are involved in a two-way exchange, and we expect that you are interested in the breadth of MAAP's activities, and not exclusively the opportunity for free equipment. Many of our Media Bank members support MAAP's free service by engaging in volunteering activities – ask us how you can be involved!
Please note that if the induction session you attend is held after the dates of your loan request, you will be able to borrow equipment in the meantime (providing that your loan is approved).
For further information, please read our terms and conditions
Membership Criteria
Successful membership applications gain access to equipment upon receipt of the $50 (individual artist) or $100 (institute) membership fee. Projects that don't meet the following criteria may be available with upon negotiating one-off hire fees similar to commercial rates:
Compatibility with MAAP's curatorial strategies (artistic merit of the project must be demonstrated)
Availability of requested equipment during proposed project times
Demonstrated safety and security of MAAP equipment during transportation and exhibition
Fulfilment of stipulated requirements in loan agreement (e.g. logo recognition on all associated print/online material; provision of loan report at project conclusion; advocating MAAP programs)
Non-profit and artist-driven projects are a priority
Not available for student projects
MAAP Media Bank Logo
All equipment loans through the MAAP Media Bank must be acknowledged by way of logo recognition on promotional material.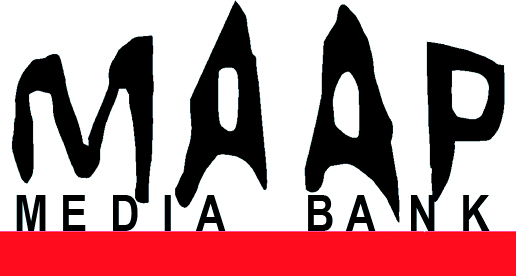 RIGHT CLICK IMAGE TO DOWNLOAD THE MAAP MEDIA BANK LOGO