Forever, 1994
single-channel video installation (1 video camera, 1 pedicab)

A high-8 video camera was fixed to the left wheel of a tricycle on a self-made bracket. The lens oriented outward recorded city scenes as the artist rode the tricycle through Beijing streets, cycling naturally and adjusting speed according to traffic conditions. The video imagery documented city scenes while simultaneously recording the movement of the tricycle wheel.
Related to Environment, 1997
single-channel video projection on the floor

The video imagery captures a goldfish, jumping, breathing, flipping and struggling out of water. The video is edited without a beginning or end, pointing to the cyclical nature of life.
Armoire, 1992 and Repeat on Purpose, 1997
Armoire, 1992
single-channel video
A camera lens replaces the hand and eyes as it moves inside a wardrobe. The camera records the direct contact between the lens and clothes in the wardrobe, emphasizing the body of the camera as not merely recording device but as capable of creating sensorial and visual contact.
Repeat on Purpose, 1997
single-channel video
A high-8 video camera is placed inside a refrigerator with the lens pointing outwards. As if in a state of auto-recording or surveillance, the camera records a series of casual actions of an item being placed into or removed from the refrigerator. When the refrigerator is open (and the light inside illuminated), the camera records an image. When the refrigerator door is closed, the screen appears black. The video imagery is subjected to the physical attributes of the inside chamber of the refrigerator with alternating conditions of light and dark. The removal of the audio emphasizes the inherent subjectivity in the image.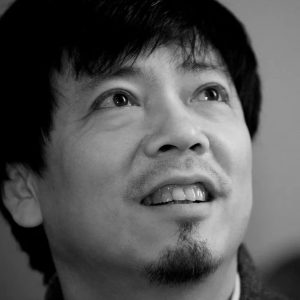 Zhu Jia
1963, Beijing, China
Born in Beijing in 1963, Zhu Jia graduated from China Central Academy of Fine Arts in 1988. He works and lives in London, U.K. As a pioneer of the practice of video art in China, Zhu Jia always tries to capture ordinary scenes through distinctive methods of practice. In his 1994 piece Forever, which has participated in several important exhibitions, Zhu attached a camera to the left wheel of a bicycle. The artist rode this bicycle over 10km around the city of Beijing, catching images of daily life through a truly unique perspective.