Fish on Dish, 1992

single-channel video projection on a dish
A video installation exhibited at Yuan's first solo exhibition, Fish on Dish (1992) was the artist's first work conjoining objects and video projection. A projector mounted overhead casts an image of a goldfish on a 42-centimetre white dish placed on the floor and creates a virtual image of a fish swimming in a pool. The work relies on the circle, porcelain dish and a goldfish, all prominent symbols in the East, to suggest the reality of existence and its difficulties. The fish leisurely swims around the dish, but can never escape its confines.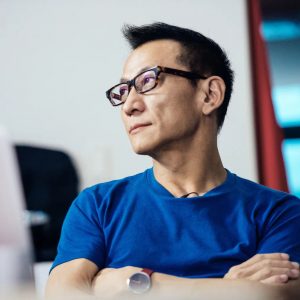 Yuan Goang-Ming
1965, Taipei, China
Born in Taipei, Taiwan in 1965, Yuan Goang-Ming obtained a master's degree in media art from the Academy of Design in Karlsruhe, Germany, and now teaches as a professor at the Department of New Media Art of Taipei National University of Arts. He is considered one of the most active and internationally acclaimed Taiwanese media artists.
Yuan began making video art in 1984. Combining symbolic metaphors with technological media, his work expresses the state of contemporary existence, and explores the human mind and consciousness with the use of poetic expressions. He was awarded First Prize for the Taipei County Arts Award, and his City Disqualified created in 2002 further solidified his unwavering position in the history of Taiwanese contemporary media art.
In 2007 Yuan began to use elements derived from "everyday domesticity" and "ruins" to develop fascinating "theatrical-everydayness" in his work. After 2011, he began exploring diverse formats, creating large-scale creations based on the themes of "time and memory" and "body and perception". His 2014 solo exhibition, An Uncanny Tomorrow, extended from the subject of "home" and explored regional living conditions under the current phenomenon of globalization, with art used to reflect on modern people's conundrums and worries. His solo exhibition, Tomorrowland, presented in 2018 showed the concept of "home" will no longer be a stable concept in the future. The presented artworks focused on the theme of "war in everyday", or "everyday during war", with the living conditions and the unrest in today's world shown.