The Broken Bench, 1995-2020
single-channel video installation (1 monitor, 1 bench)

The Broken Bench (1995-2020) marries traditional Chinese hand-crafted piece of furniture with the culturally non-specific video technology manifest in a bench embedded with a small video monitor. The bench is cut and re-joined to incorporate the video monitor and recording of the repair joinery maintaining the old bench's 'original appearance'. Along this join an index finger dispassionately traces the cut line, the record of the interruption, recalling the absent section of the bench in time passed. Pitting contradictory time instances, before and after the monitor was embedded, the bench is resurrected in two distinct mediums and two distinct experiences of time. The demonstration of the past in the video recording makes the present moment more lucid and accentuated, heightening the sense of 'liveness'. (Text / Kim Machan)
Two Square Meter Space, 1995-2020
CCTV video installation

Two Square Meter Space was first fully realised as an installation in the artist's home in a traditional Hutong in Beijing in 1995. The CCTV camera outside captured the two square meter section of the traditional brick, partially rendered and worn external walls. When this image was projected into the reverse inside section of the wall, the outside perspective was visually forced upon the opposite internal perspective. Through the unique possibility of the video medium, the representation of the exterior wall is disciplined into the internal space. The natural perspective distortion of space is captured through the CCTV camera because the right-angled corner walls recede.The title "2 Square Meters" is an ambiguous fact that calls for a reconciliation of at least three instances of our lived real and virtual realities. Firstly the concrete measurable reality of two square meters, secondly the video recorded appearance of two square meters, and lastly the reinstated two square meters projected into the internal space. Two square meters becomes an uncertain proposition. In addition, the delay between experiencing the outside wall as a participant and consequently being the voyeur, disrupts, destabilises and brings to attention personal spatial surveillance experiences. (Text / Kim Machan)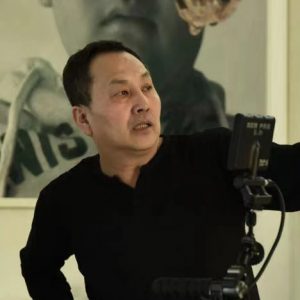 Wang Gongxin
1960, Beijing, China
Born in Beijing in 1960, Wang Gongxin was admitted to the Capital Normal University academy of Fine Arts in 1978, and took the teaching post after graduation in 1982. In 1987, he went to State University ofNew York as a visiting scholar for master degree studying. He was a visiting tutor at Central Academy of Fine Arts between 2002 and 2007. In 2013, Wang was nominated for XL video Award of Best set design in 2013 "Olivier Award". In 2014, he received Honorary Doctoral degree in SUNY (State University of New York). He lives and works in Beijing and New York.
Wang's has exhibited in the San Paulo Biennale, Brasil; Taipei Biennial; Shanghai Biennial; Echigo-Tsumari Art Triennial in Japan; Tokyo Watari Museum of Contemporary Art; Mori Art Museum in Japan, San Francisco Museum of Modern Art, MOMA PS1 in New York; Victoria and Albert Museum in UK; Queens Museum in New York; Museum for Contemporary Art ZKM in Germany; Haus der Kulturen der Welt in Berlin; Tate Liverpool in UK; National Gallery of Victoria in Australia; the Guggenheim Museum, New York; Hamburger Bahnhof – Museum für Gegenwart in Berlin; White Cube Hong Kong; Fukuoka art Museum in Japan; Institute of Contemporary Arts in London; The Bronx Museum of the Arts, New York; Power Station of Art in Shanghai; OCT Contemporary Art Terminal Shanghai; UCCA Center for Contemporary Art in Beijing and National Art Museum of China.