Voie-Voix Lactée, 1988
single-channel video
Soungui Kim's Voie-Voix Lactée (1988) is a work that takes the journey between Paris and Seoul, and turns it into a one-hour video. The round-trip journey from Paris to Seoul, then Seoul to Paris, simultaneously recorded and edited by the limited time of a sixty-minute videotape, created an artwork where its recorded time is equal to its edited time. In this work, wherein the directions of coming and going, and time are mixed-up and disarranged, she has created the time of another route that travels neither to Paris nor to Seoul, containing the eighteen-hour flight time, sixty-minute of videotape, and the eight-hour time difference of two countries.
The title Voie-Voix Lactée is a play on words made by arranging voie (way) from Voie lactée (Milky Way) together with voix (voice), its homonym. Such an example can be frequently found in works by Kim, who is known to love 'language games'. Passing beyond the limitations of Eastern and Western ideas and embracing even the conditions that cause confrontation and contradiction, Voie-Voix Lactée conceals the diverse weaves of interpretation.*
Etang de Vaccarèes (Pond of Vaccarèes), 1985
single-channel video

Etang de Vaccarèes (1985) is shot in real time without editing to unify the fictitious time of video and the real time of the spectator. The image becomes visible and invisible as the artist repeatedly zooms in and out: a visual repetition of a repeated nonsensical narrative. The work physically embodies the state of "unity of self and things," by synchronizing the breathing of the video and of the person filming. The act of repeatedly opening and closing the aperture of the lens according to the tempo of the artist's inhalation and exhalation is a natural experience of penetrating the medium called video with the body to become "One" with it. Soungui Kim, who sees body and mind, existence and non-existence, emptiness and form, knowing and not knowing, visibility and invisibility, as one, is embodied simply and clearly through the manipulation of video equipment.*
*Excerpts from Mun Hyejin, "Video-O Time-One's Place", Lazy Clouds: Soungui Kim (Seoul: National Museum of Modern and Contemporary Art, 2019)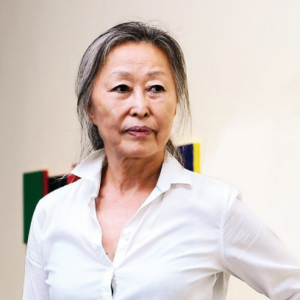 Soungui Kim
1946, Buyeo, South Korea
Born in Buyeo, South Korea in 1946, Soungui Kim is a multimedia artist, one of the pioneers in multidisciplinary art of the early 70s. She has been living and working in France since 1971, actively teaching, creating, and establishing her career for the last 50 years. Kim is an artist with complex aspects that cannot be defined in a single way nor in the dichotomy of situations. Her interest in Eastern and Western philosophies and the experimentation with various artistic medium led Kim to incorporate situational, experiential and accidental processes into her practice.
Artist Soungui Kim lives a life that is not confined to formalities, but pioneers new roads of art ahead of her times, creating new paths in untrodden land. Kim has constantly blazed trails in new territories and has been introduced to the public as a case of convergence between disciplines and genres including those involving science and technology, and the arts. From the deconstruction of painting, to spectator-participatory events in public places, challenges in video and multimedia, and comparative studies in culture and philosophy of East and West, Soungui Kim's artistic journey has always been one step ahead.