Intimate Transactions at Australian Regional Art Galleries, National Art Museum of China, Californian Polytechnic State University
28/08/08 to 18/10/09
Transmute Collective (Keith Armstrong, Guy Webster, Lisa O'Neill)
The work allows two people in separate spaces to interact simultaneously using their bodies and custom designed 'smart furniture'.
Participants engage in a shared sensory intimacy, as they navigate their way through a physical interface of digital imagery, multichannel sound and tactile feedback.
The presentation of Intimate Transactions at Synthetic Times, National Art Museum of China in 2008, generated further touring opportunities. Intimate Transactions was part of a remote link-up with American audiences supported by the Californian Polytechnic State University, as well as a tour of eight regional Australian galleries supported by Museum and Gallery Services Queensland (MGSQ).
https://www.maap.org.au/exhibition/intimate-transactions-2008-2009/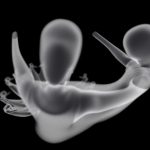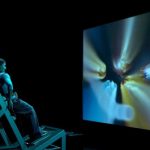 ____________________________________________________________
The Sky is the Limit at Shopfront – Judith Wright Centre of Contemporary Arts
01/09/08 to 09/09/08
Paul Bai
Brisbane based artist Paul Bai produced a site specific three-channel video projection exploring the notion of 'space' in the format of video projection.
https://www.maap.org.au/exhibition/the-sky-is-the-limit-2008/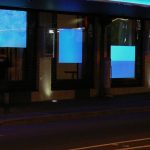 ____________________________________________________________
Synthetic Times: Media Art China at National Art Museum of China
09/06/08 to 03/07/08
Stelarc, Transmute Collective, Kim Kichul, Paul Lincoln
SYNTHETIC TIMES presented a survey show of some of the most significant media art installations created in this decade. MAAP supported the participation of artists from Australia and the South East Asian region, including Stelarc's interactive Prosthetic Head, an extroverted 'walking head' robot; Transmute Collective's Intimate Transactions (Keith Armstrong, Guy Webster and Lisa O'Neill, Australia); Kim Kichul's (South Korea) Sound Drawing series of interactive audio drawings; and Paul Lincoln's augmented reality air conditioned installation, Citizen's Comfort (Singapore).
https://www.maap.org.au/exhibition/synthetic-times-2008/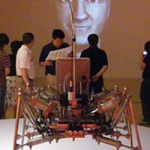 ____________________________________________________________