Yeondoo Jung
27/9/2013 - 8/11/2013
MAAP SPACE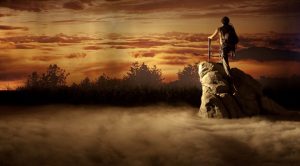 Yeondoo Jung makes elaborate artificial environments for video and photographs. Combining handmade theatrical sets with analogue special effects, the South Korean artist creates worlds that are richly detailed and slick but always a little imperfect. MAAP SPACE presents two spectacular video works, Documentary Nostalgia (2007) and Twilight Seoul (2012), in what is Yeondoo's first Australian solo-exhibition. In these works, as with many of his projects, the artist plays with the shakiness of truth in both representation and recollection.
Filmed in a single unedited take over 84 minutes, an empty gallery space becomes the stage for a complex sequence of moving scenery in Documentary Nostalgia. Over the duration of the video, recorded from a fixed camera position, an impeccably choreographed construction team swiftly install a flurry of backdrops, furniture and other props to create six entirely different sets from scratch. Starting with the proposition that it is impossible to document nostalgia, the video attempts to reconstruct episodes and places from the artist's memory, beginning with his father's living room. Like a stage show directed by an over-zealous set designer, props are wheeled in and out, entire sets are dragged from left to right, and multiple backdrops unfurl to create contrasting environments: domestic spaces, urban streetscapes and countryside (complete with artificial trees, grass and even a live cow). A self-described 'anti-illusionist' Yeondoo believes it's important to reveal his production processes. Even so, there is a tenderness and emotional warmth in the hand-crafted production, and notwithstanding the viewer's full behind-the-scenes insight, belief is suspended for just long enough to be able to join with the artist's imaginative world.
Twilight Seoul (8:40 mins) is a similar live construction filmed in a single take, but one that uses broader brushstrokes and a more casual, improvised approach. A collaboration between Yeondoo Jung and Luka Fineisen, a German artist known for her complex and delicate installations, the video shows the artists working together with their hands, sans Yeondoo's installation crew. Piecing together remnants from past art works and materials on hand in the studio, they recreate a view of the hills surrounding Seoul; the jumble of objects is transformed into romantic setting and sublime moment of pause with a final lighting gesture and smoke machine.
Since his first exhibition in the late 1990s Yeondoo has exhibited in numerous internationally significant exhibitions with prestigious museums such as MoMA, New York; National Art Museum of China, Beijing; Fukuoka Asian Art Museum, Fukuoka, Japan; National Museum of Contemporary Art, Gwacheon, Korea; and biennales such as the Venice Biennale and Istanbul Biennale. His remarkable career has seen him attain many awards including the Korean 'artist of the year' in 2008.