Shilpa Gupta
26/7/2013 - 30/8/2013
MAAP SPACE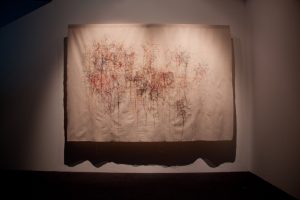 Indian conceptual artist Shilpa Gupta presents four major works at MAAP Space in a solo presentation of video, sculpture and installation work. Launching her career in 1997, with a strong focus on media and interactive art[1], Gupta's work has come to be internationally regarded for its commentary on the intertwining of the political and the personal across a vast range of contemporary issues.
Gupta is interested in human perception and how information, visible or invisible, is transmitted and internalized in everyday life. Constantly drawn to how objects are defined and how places, people, experiences are identified, Gupta explores zones where these definitions are played out, be it borderlines, labels or ideas of censorship and security. Though overtly political, Gupta avoids sensationalism by parsing her subject matter through personal and private experience. Indeed, her work engages the viewer with intimacy, dialogue and emotional intensity; direct but never didactic.
The artist's recent work encompasses a wide range of materials including photographs, video, interactive media, sculptural objects, websites and audio. Contemporary technologies play an important role in Gupta's practice, and her work demonstrates a willful command over both media and message. For example, her interactive sound installation 'Speaking Wall' (2009-2010), activated by motion sensor, plays to the authoritative nature of the medium. The artist's direct instructions to the viewer (move back/move forward) are spliced with a poetic monologue on borders: both in the geopolitical sense, and with respect to the delineation of space defined by the installation. The sense of distance, surveillance and bureaucracy imposed by the electronic display is embraced and then displaced by the artist's contrasting use of instructional and conversational tone.
The two video works in the exhibition, 'Untitled' (2012) and 'One Hundred Hand Drawn Maps of India' (2007-2012), are similarly sensitive in their use of space and medium. Both are very intimate in scale, drawing the viewer in close (or in the case of 'Untitled', crouched to the ground to meet the plane of the video) for the best vantage point. 'One Hundred Hand Drawn Maps of India', a sparsely animated collection of drawings of the Indian map, draws us into the complexities of man-made borders. The final work in the exhibition, a cloth wall-hanging embroidered with machine-sewn stars titled 'Stars on Flags of the World' (2011- 2012), speaks to ideas of geographies, imagined communities and nationhood. In her choice of form for this particular work the artist flouts any perceived allegiance to digital media and instead heeds the material conventions of her subject matter, the flag.
Over the past decade Shilpa Gupta has exhibited in numerous internationally significant exhibitions such as in the Daimler Contemporary, Berlin; Mori Art Museum, Tokyo; New Museum, New York; Yvon Lambert, Paris; Solomon R Guggenheim Museum, New York; Centre Pompidou, Paris; and has produced commissioned work for Tate Online, London. There is no question that Gupta's practice is international resonant, or that her work has a "singular ability to touch its viewers"[2].
---
[1] Gupta trained in sculpture, started her practice with Installation, moved to interactive
Installation, and then video and digital image, however, her work also typically integrates low-tech materials found in everyday life, for example soap, string, bricks.
[2] Renee Baert, 'Troubling Borders' in Shilpa Gupta: Will We Ever Be Able to Mark Enough, 2011-2012