01/03/2016 - 20/04/2016
MAAP SPACE
Alrey Batol
From March 2016, MAAP Media Art Asia Pacific hosted Alrey Batol, winner of our 2016 Media Art Residency Award, at MAAP SPACE. During the six weeks Alrey spent with MAAP he had full access to MEDIA BANK equipment and the gallery space, which he took full advantage of.
Using unorthodox techniques Alrey investigated repetitive layering of images collected from the internet through a software filtering program. One hundred high resolution representations of luxury designer bags by Louis Vuitton were the base material in his interrogation of the image that was both a critique and a celebration of the commodity.
Alrey produced a new body of work exploring ideas around the value of objects in consumer culture. The residency contained a hive of experiments utilising a range of commercially available technology, customised, and repurposed equipment such as tiny LCD monitors, a free-standing rear projection screen, touch screen, and an oversized colour ink-jet printer. The final presentation resulted in four separate artworks utilising eight monitors, rear projection, and a suite of ten unique digital prints.
During two special open studio events the public could view these works and in the process Alrey gained invaluable feedback from them. Throughout the residency the public were able to access the exhibition as it progressively matured. Alrey also received mentorship from MAAP as well as a number of critical discussions with other industry professionals that were invited to meet with the artist.
Born 1980, Philippines, and living in Brisbane, Australia. Alrey completed a Bachelor of Communication Design from Queensland University of Technology in 2007 followed by a Bachelor of Fine Art from the Queensland College Of Art in 2014 where he was awarded the Australian Decorative and Fine Arts Society Award for interdisciplnary sculpture. In 2015 Alrey was a finalist in the Churchie Emerging Art Prize. Alrey has exhibited nationally, at Museum of Contemporary Art (Sydney), Boxcopy (Brisbane), Metro Arts (Brisbane), Seventh Gallery (Melbourne), and The Walls Art Space (Gold Coast), and has held solo exhibitions across Brisbane at Witch Meat ARI (2012), Inhouse (2013), and A-CH Gallery (2015).
Words from Alrey
"During my residency at MAAP, I was invited to take my practice further and so i looked more deeply into consumer and material culture. In the past I have used disutility and  novelty as driving forces in my art-making.
"This time I wanted to see into more abstract relationships with material culture, in other words I wanted to use the actual image of products as a starting point. this led me to (serendipitously) collect 100 photos of Louis Vuitton bags from the internet. The fact there were even more than a hundred different types of one product and brand was a revelation to me.
"So I set out to see how I might treat an 'image' (images) as a multidisciplinary artist. From somewhat traditional (ink-jet) printmaking where I print the same image over again on one paper, to more hyper-modern environments such as high definition monitors, touchscreen, web browsing and an algorithmic sequencing of the actual JPEG file I collected.
"The thing I found most invaluable was discovering a more intensive focus on art-making and looking deeply into the actual process itself, with its various issues (pathos, logos and ethos). How things are best communicated, new conceptual methods and techniques; the image as material, its treatment, whether its degrading their aura and iconography, or playing with their typology and demystifying through programming code, to a more subtle approach of underlining and re-communicating the qualities and mystique of visual merchandising.
"In the end, I have found that my practice is neither a critique or a celebration, but a sort of tension between the two (between novelty and mundaneness), which I am hoping invites the viewer to be just as critical and introspective as the artist who made the work."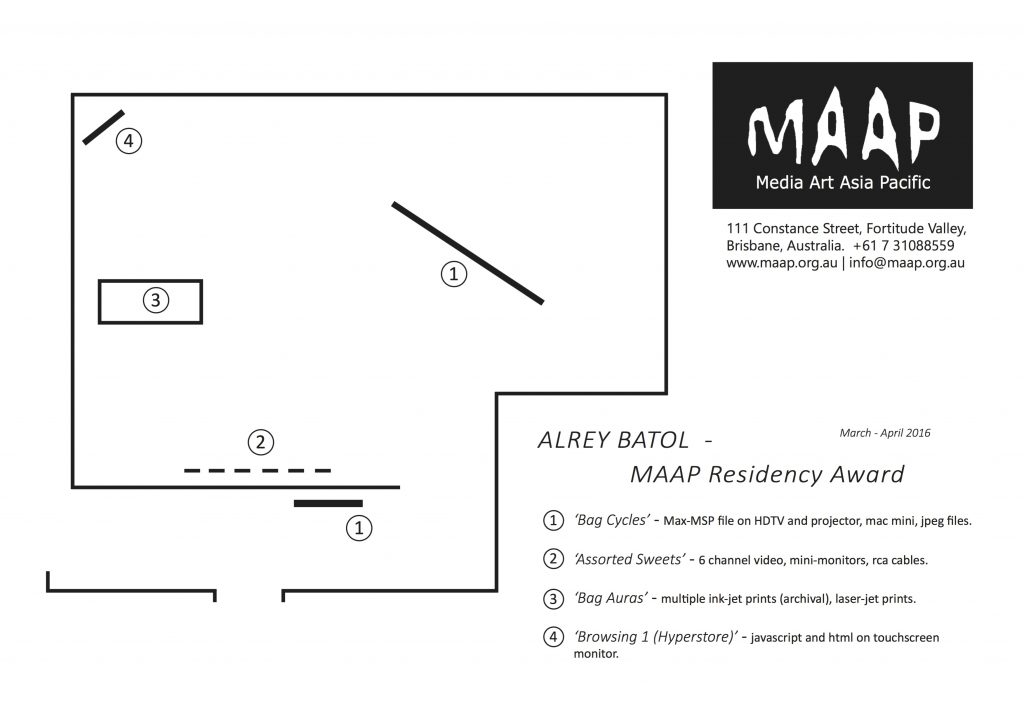 Documentation from Alrey Batol's final open studio event Friday 15 April 2016: