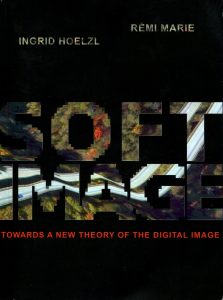 MAAP SPACE gallery will host a public discussion about transformations in "nature" of the visual image now and into the future. Andrew McNamara will be in conversation with Ingrid Hoelzl about her new book, Soft Image, which explores the changing conception of image today, especially the photographic image.
Where: MAAP SPACE, 111 Constance St FORTITUDE VALLEY 4006
When: 26th November, 2015
Time: 6pm-8pm
'Soft Image:Towards a New Theory of the Digital Age'
With today's digital technology, the image is no longer a stable representation of the world, but a programmable view of a database that is updated in real time. It no longer functions as a political and iconic representation, but plays a vital role in synchronic data-to-data relationships. It is not only part of a program, but it contains its own operating code: the image is a program in itself. Softimage aims to account for the new reality, taking readers on a journey that gradually undoes our unthinking reliance on the apparent solidity of the photographic image and building in its place an original and timely theorization of the digital image in all its complexity, one that promises to spark debate within the evolving fields of image studies.
To purchase a copy click here.
Ingrid Hoelzl
Dr. Ingrid Hoelzl is a new media theorist specialising in the theory of the digital image. Dr Hoelzl is the author of a monograph on the theory of photographic self-portraiture, Der Autoporträtistische Pakt (2008). She is the guest editor of special an issue entitled Photography and Movement (2011), the co-editor of the anthology Images in Movement (2012), and the curator of online cluster THE OPERATIVE IMAGE (2014). Her articles on contemporary photography, photographic self-portraiture as well as the new temporality and functionality of the image in digital culture have been published in numerous books and exhibition catalogues, and journals. Dr Hoelzl received her PhD from Humboldt University summa cum laude and has taught at the Academy of Fine Arts Vienna, Friedrich-Schiller University Jena and McGill University. Her article 'Moving Stills: Images That are no Longer Immobile' (2011) has been selected as one of the ten most important articles of the journal Photographies. Her second book, SOFTIMAGE: Towards a New Theory of the Digital Image (co-authored with Remi Marie has been published in September 2015 with Intellect / Chicago University Press. She is currently working on a new book project, addressing the fate of the image in the age of post human vision.