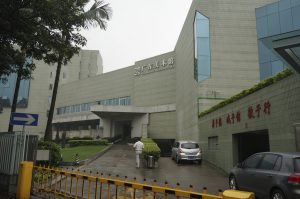 MAAP in partnership with the Guangdong Museum of Art presents its critically acclaimed exhibition LANDSEASKY: revisiting spatiality in video art. The exhibition will open at the museum in Guangzhou, China 26 March 2015, shortly after the close of the Art Basel Hong Kong art fair. In this final China presentation of the exhibition, all artists will be shown simultaneously across the entire Level 2 of Guangdong Museum of Art, an area close to 2,000 square meters.
LANDSEASKY presents works by Jan Dibbets (The Netherlands), Shilpa Gupta (India), Yeondoo Jung (South Korea), Derek Kreckler (Australia), Giovanni Ozzola (Italy), Paul Bai (Australia), Lauren Brincat (Australia), Barbara Campbell (Australia), João Vasco Paiva (Portugal/Hong Kong), Kimsooja (South Korea), Craig Walsh (Australia), Sim Cheol-Woong (South Korea), Wang Gongxin (China), Wang Peng (China), Yang Zhengzhong (China),  Zhu Jia (China), and Heimo Zobernig (Austria) and Zhang Peili (China).
26 March to 6 May 2015
Guangdong Museum of Art
38 Yanyu Road, Yuexiu, Guangzhou,
Guangdong, China +86 20 8735 1468
After touring Seoul, Shanghai, Sydney, and Brisbane, LANDSEASKY docks into the port of Guangzhou for another leg of its Asia tour at the Guangdong Museum of Art. With each movement from city to city, continent to continent, LANDSEASKY has evolved and grown into a new organism, a new configuration, at each stage of its travels. Zhang Peili, whom critics frequently dub an eminent leading video artist in China, joins the compelling line-up of artists in Guangzhou.
This exhibition continues to pick-up on the international ('global') dialogue from conceptual art practices of the 1960s and 70s. The Horizon series from 1971, by influential Dutch conceptual artist Jan Dibbets, is the opening statement that launches LANDSEASKY's conversation among the 18 artists whose works explore the relationship between video and spatial representation. LANDSEASKY uses the horizon line as a starting point to explore concepts in perception that push past popular cinematic practices, which focus on narratives and illusion, to encourage critical engagement and contemplation.
The artists have been selected for their deliberate sculptural approaches to videos, which consider distance and the 'void' of what is between us. Elements of the horizontal move from the simplest form—a single line across a plane or page to depict the horizon—and proliferates into more complex ideas such as geographical borders and boundaries; psychological and imagined space; and actual and representational space.