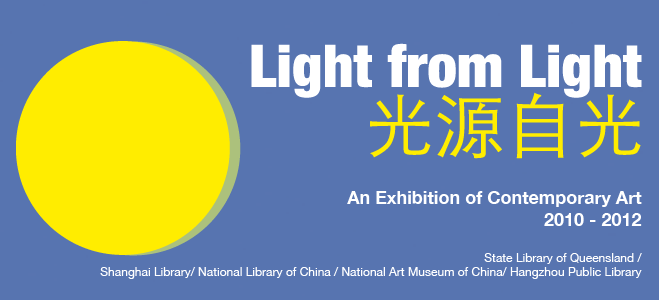 Light from Light is an international touring exhibition of contemporary art from Australia and China.
Since opening in October 2010, the exhibition has been held at the State Library of Queensland, while a duplicate of the exhibition has toured throughout China, visiting the Shanghai Library (3/11/2010—7/2/2011), National Library of China and National Art Museum of China (29/4/2011—30/6/2011), and Hangzhou Public Library (14/7/2011—18/9/2011).
Light from Light is designed specifically for library spaces. The exhibition features artworks themed around the idea and properties of light, as interpreted by Australian, Chinese and European artists. A collection of light-inspired and light-generating artworks are displayed throughout library collection spaces, reading rooms and public areas. Currently, at the State Library of Queensland, visitors will encounter a large outdoor solar-powered sculpture, neon art objects, light-sculptures, sounds generated by the sun and illuminated texts.
Light from Light artists are: (from Australia) Archie Moore, Eugene Carchesio, Grant Stevens, David Haines, Joyce Hinterding, Janet Burchill, Jennifer McCamley, (from Europe) Josef Strau, (from China) Zhang Peili, Wang Peng, Pak Sheung Chuen, Lin Tianmiao and Wang Gongxin.
Light from Light has been supported by: the Queensland Government from art+place Queensland Public Art Fund; the Australia Council for the Arts; the Department of Foreign Affairs and Trade through the Australian International Cultural Council and the Australia China Council.
Light from Light has also been supported by project partners: State Library Queensland, Shanghai Library, Griffith University Queensland College of the Arts, China Academy of Art, Urban Art Projects, South Bank Corporation and Kisun Renewable Energy Distribution.
MAAP-Multimedia Art Asia Pacific gratefully acknowledges the assistance of the Queensland Government through Arts Queensland. Light from Light opening in October/November 2010 is part of 'Imagine Australia' – The Year of Australian Culture in China 2010 – 2011'想象澳大利亚'- 澳大利亚文化年 2010 – 2011