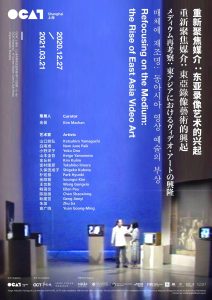 This exhibition on East Asia video art presents Ms. Kim Machan's research over the years on a subject that still seems uncommon today. Ms. Machan's study provides an opportunity better to understand video art in the East Asian context.
The exhibition brings together video works from the 1960s to the late 1990s by artists including those from Japan, Korea, the mainland of China, Taiwan, and Hong Kong. Looking back at the practices of these artists, we discover two common traits: first, the conceptions of these artists, which seem to fit and identify in varying degrees with an earlier generation of European and American artists; and second, the importation or production of technology, which made the emergence of video art a logical occurrence. Interestingly, it is a common misconception that video art in China originated in the late 1980s, as the Chinese art world was entering the late phase of the 85′ art movement, while the television became a popular domestic appliance and portable video cameras became available in the country. In contrast, film cameras entered some Chinese homes much earlier, yet artistic photography had not emerged as a medium of expression? This phenomenon shows that while the availability of the camera may be critical, but more importantly is the consciousness of the person who controls it. Although the origins of video art in East Asia were influenced to varying degrees by modern art from the West, the emergence of video art practice exhibited the artists' initiative and proactive engagement, unlike the passive acceptance of oil painting (which was brought in by missionaries) to China a few centuries ago.
East Asia video art launched on the eve of globalization and flourished in the new century with the rapid development of Internet technology. With the popularization of smartphones, video is now neither the primary format of new media nor does its practice present regional distinctions, which is why Kim's study is all the more valuable and vital.
ZHANG Peili
Executive Director, OCAT Shanghai