MAAP is proud to announce the extension of Unlimited – João Vasco Paiva's exhibition and CityCat Brisbane River project. The project will now continue up to the 28th February enabling more people to experience the work installed at selected CityCat terminals and the gallery installation at MAAP SPACE in Fortitude Valley.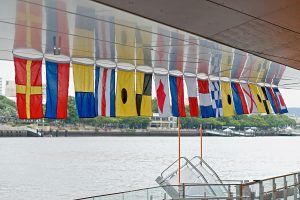 Visitors have responded enthusiastically to Paiva's public art project along the Brisbane River during the summer holiday period. Thousands of local, interstate and international visitors have experienced the art work engaging with the naval signal flags in various ways.
MAAP SPACE presents the two-channel video installation, Unlimited, 2014. This recent work by Paiva creates an immersive experience of an expansive ocean crossing using digital imagery combined with a mesmerising sequence of abstract geometric maritime communication flags. Unlimited was inspired by the journey from Europe to Asia by the 17th Century maritime explorer and writer, Fernao Mendes Pinto. Pinto, a prolific writer, described his voyages from Portugal across the oceans to Goa, Malacca and many places in South East Asia with a naive anthropological method that leans toward a fiction of the exotic.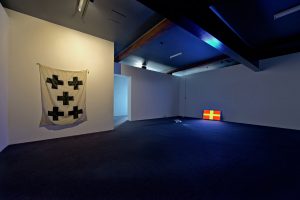 Connecting to the imagery in the gallery installation at MAAP SPACE, Paiva introduces the naval communication flags into the journey along Brisbane River and CityCat environment. The artist supervised the installation in the gallery and also the positioning of the naval signal flags that are visible on the Brisbane River from the CityCat ferry service. The flags in MAAP SPACE installation hold poetic messages that are extracted from the Fernao Mendes Pinto's famous autobiographical memoir Pilgrimage written in 1614. Selected CityCat terminals deploy naval signal flag messages that draw inspiration from another literary reference, Heart of Darkness by Joseph Conrad written in 1899.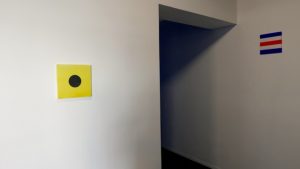 João Vasco Paiva is based in Hong Kong and has been exhibited widely in museums as well as galleries from Hong Kong and Portugal to the UK, Australia, Hungary and New York. Exhibitions include 'Living as Art Form', Independent Curators International, New York '13; 'Hong Kong Eye', Saatchi Gallery, London '12; 'What should I do to live your life', Sharjah Art Foundation, Sharjah, '12; Athens Video Art Festival, International Festival of Electronic Language at Sao Paulo. Paiva held a major solo exhibition at the Orient Foundation in Macau and a solo show at Counter Space, Zurich and is the recipient of multiple awards, including the Hong Kong Emerging Artist Grant and the International Artist Support Grant awarded by the Calouste Gulbenkian Foundation in Portugal.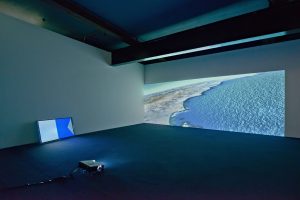 MAAP – Media Art Asia Pacific has been working in Australia and the Asia regions since 1998. Our reputation has been built on a strong portfolio of international multimedia festivals, exhibitions, and symposiums in Australia and the Asia regions, locating Australian contemporary media arts within a plural international dialogue. In 2013 MAAP was nominated in five categories and the winner of the Australian Arts in Asia Award – Visual Art for the major public art project partnering with the State Library of Queensland, Shanghai Library, National Library of China and the National Art Museum of China in Beijing. MAAP has just completed its major touring exhibition LANDSEASKY: revisiting spatiality in video art that was exhibited in eleven venues across Korea, China and Australia including Art Sonje Center in Seoul, OCAT Shanghai, Guangdong Museum of Art in Guangzhou and Griffith University Art Gallery in Brisbane.
MAAP would like to thank McConnel Dowell, the Brisbane City Council, Arts Queensland and Edouard Malingue Gallery for supporting this project edouardmalingue.com
MAAP SPACE is open Tuesday to Friday 11am-5pm or by appointment.
For more information +61 07 31088559, info@maap.org.au
http://www.maap.org.au/exhibition/unlimited-2015/
Photo credit: Mick Richards