MAAP is thrilled to announce that the LANDSEASKY: revisiting spatiality in video art e-publication is now available freely online.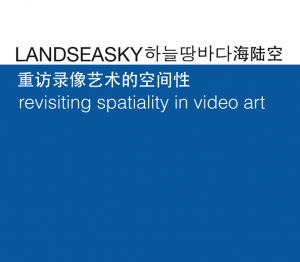 Catalogue publication.Paperback, 94pp, full colour.
ISBN 978-1-921858-29-1
Published by OCAT – Shanghai and MAAP-Media Art Asia Pacific
94pp Full colour English and Chinese
LANDSEASKY: revisiitng spatiality in video art documents the eponymous touring exhibition that presented visually rich and challenging video artworks from 18 international contemporary artists in 3 countries, 5 cities, activating 11 venues in the major Asia – Australia tour. The exhibition was presented in South Korea, China and Australia across multiple prestigious museums and galleries in 2014 – 2015 including Artsonje Center (Seoul), OCAT- Shanghai, Guangdong Museum of Art (Guangzhou), Griffith University Art Gallery and MAAP SPACE (Brisbane), The National Art School Gallery (Sydney) along with five commercial galleries in Seoul – ONE AND J Gallery, Gallery IHN, Gallery Skape, Lee Hwaik Gallery and Opsis Art.
This international touring exhibition speaks to the three elements represented by the horizon line as an emblematic starting point to investigate spatiality in video and the moving image. The sculptural attributes of video and the moving image are brought to the fore to address the elemental theme of the exhibition in a phenomenological rather than narrative experience. The publication includes full colour documentation of all art works in the exhibition.
A collection of essays by participants and collaborators are offered here to reflect upon the exhibition. The artistic directors of the non-commercial host venues Mariagrazia Constantino, Artistic Director, OCT Contemporary Art Terminal Shanghai; Sunjung Kim, Chief Curator of Art Sonje Center; Naomi Evans, Acting Director, Griffith University Art Gallery; and Judith Blackall, Director, National Art School Gallery contribute commentary of the exhibition in their city venue and to varying degrees, the context that supported it. Andrew McNamara offers a very specific historical examination of early spatial experiments in modernist art in Europe through his research evidencing Erich Buchholz's spatial experiments in 1922 that are prescient to Kurt Schwitters' Merzbau project. Paul Bai extrapolates spatial theory recounting Henri Lefebvre and Edward Sooja's perspectives before offering a progressive proposition to apply to contemporary art's critical reading. Ingrid Periz writes as an observer, responding to the exhibition with her reflections and insights, shining light on Alain Corbin (1750-1850) writings, where she brings to notice how 'the Western seaside is a post-Enlightenment, and specifically Romantic project, underwritten by the new science of geology and the history of Dutch landscape painting". Kim Machan, director of MAAP and curator of the exhibition provides an introduction and the exhibition rationale.
Artists include:
Jan Dibbets (The Netherlands), Paul Bai (Australia), Lauren Brincat (Australia), Barbara Campbell (Australia), Wang Gongxin (China), Shilpa Gupta (India), Yeondoo Jung (South Korea), Derek Kreckler (Australia), Giovanni Ozzola (Italy), Joao Vasco Paiva (Portugal/Hong Kong), Wang Peng (China), Kimsooja (South Korea), Craig Walsh (Australia), Sim Cheol Woong (South Korea), Zang Peili, (China), Yang Zhenzhong (China), Zhu Jia (China), Heimo Zobernig (Austria)